Infections caused by the spread of bacteria and viruses continue to cause illness and death around the world, with coronavirus being only the latest example of the need for better infection control.
During the 2018-2019 flu season, influenza resulted in 35.5 million illnesses, 490,600 hospitalizations, and 34,200 deaths in the United States, according to the Centers for Disease Control and Prevention (CDC). Hospital-acquired infections (HAIs) affect 5 to 10 percent of hospitalized patients in the U.S. per year. These 1.7 million HAIs cause about 99,000 deaths per year, the CDC reports. Other common and potentially fatal infectious diseases claiming more than 5,000 lives per year include pneumonia, AIDS, and viral hepatitis, the federal agency reports.
To control infectious disease, we must adhere to foundational concepts of hygiene
We've known for a long time that hand hygiene compliance is a primary way to prevent the spread of infectious disease in healthcare settings. This simple, personal diligence helps to preserve the health of patients and care providers on the front line of health care. With the advent of all the uncertainties of the coronavirus, the call for hand hygiene has been extended beyond the healthcare environment into the community.
But hand hygiene compliance in healthcare settings is not where it should be
As an increasing number of community members become more conscientious about hand hygiene and more familiar with CDC hand hygiene recommendations due to the coronavirus, hand hygiene compliance in many healthcare settings is not where it should be.
Among healthcare workers, compliance rates with hand hygiene standards average below 50%, according to the Centers for Disease Control and Prevention (2017). While hand hygiene compliance under 50 percent is insufficient, there is recent evidence showing that the average compliance rate is even lower (McLaws, et al., 2018; Eiamsitrakoon, et al., 2013; Pan S-C, et al., 2013).
Verifying and reinforcing hand hygiene compliance is a vital component of the response to infectious disease
Hand hygiene compliance has been low because healthcare organizations haven't had an effective way to monitor compliance and to reinforce its importance. Up until recently, the direct observation of care providers was considered the "gold standard" of compliance measurement. However, when care providers are not being observed, compliance drops off, due to the Hawthorne effect – the alteration of behavior by the subjects of the study due to their awareness of being observed. Simply put, the Hawthorne effect falsely increases estimated hand hygiene compliance rates.
Studies show the overestimation to be as high as 300 percent since compliance drops off significantly when healthcare workers are not directly observed, and most hand hygiene events are not directly observed (Srigley, et al., 2014). Another recent study found compliance was between 8 percent and 29 percent less when observed by covert observers rather than standard methods (Werzen, et al., 2019).
Until healthcare organizations can reliably verify and reinforce hand hygiene compliance, the response to the threat of infectious disease will be insufficient.
Leapfrog Group calls electronic compliance monitoring "an important component" of hand hygiene
In an acknowledgement of electronic compliance monitoring becoming an "important component of a comprehensive hand hygiene program," the Leapfrog Group added electronic monitoring to its hand hygiene practice standards for 2019 (Nour-Omid, 2020). Electronic hand hygiene monitoring technology has resulted in better compliance for many healthcare organizations, and the correlation between compliance and lower infection rates has begun to be demonstrated (Kelly et al., 2016; Michael et al., 2017; Banks, et al., 2019)
The Vitalacy electronic hand hygiene monitoring system was implemented in about half the medical and surgical beds in an academic medical center with a higher-than-average HAI rate; this rate was high despite the medical center reporting direct observation hand hygiene compliance rates of more than 90 percent on 1,500 direct observations per quarter (Vitalacy, 2019).
Compliance up, infections down
Immediately after implementation, Vitalacy's automated hand hygiene compliance tracking found that the actual hand compliance was about 30 percent. After activating reminders on the Vitalacy SmartBands worn by care providers, the compliance rate increased to more than 70 percent on about 225,000 observations per quarter (Vitalacy, 2019). The Vitalacy technology reinforces hand hygiene compliance by providing individual, unit and organization-wide data, thereby engaging all care providers in the effort to improve patient safety.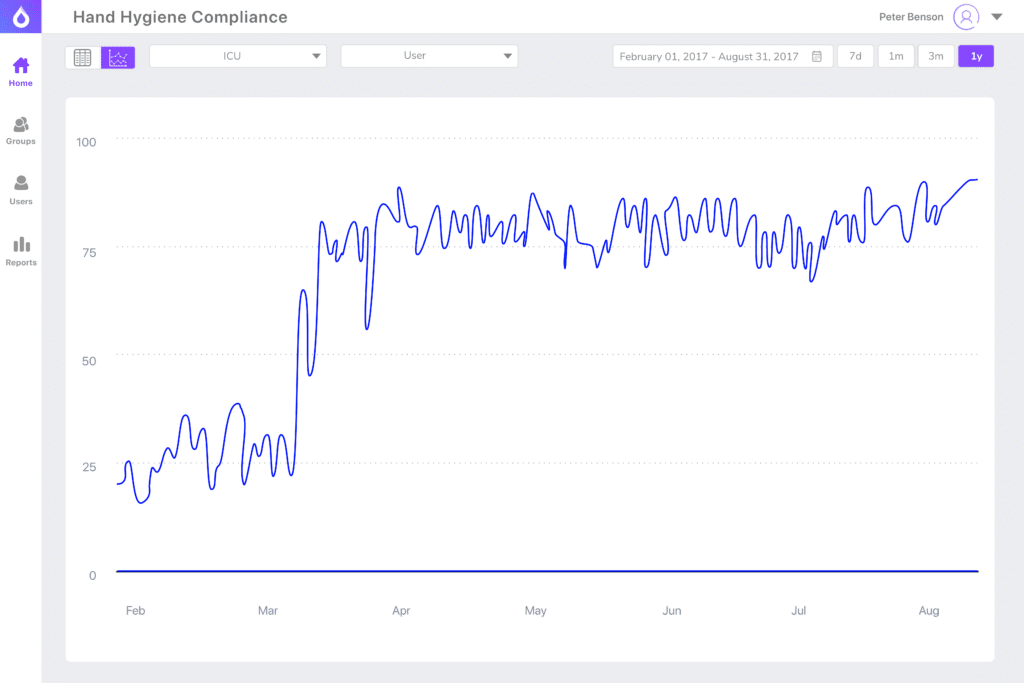 Infection incidence decreased both on the monitored units and medical center-wide for two consecutive quarters (Vitalacy, 2019).
Vitalacy can bring short- and long-term solutions to organizations wishing to be at the forefront of infection control. At times like these, we all must rely on the fundamental truths and competent science that only reliable data can provide. Vitalacy can provide reliable hand hygiene data that will give your organization a clear view of your current compliance, as well as insights that will lead to better compliance and patient safety.
Request a demo of Vitalacy's Automated Hand Hygiene Monitoring Solution today!
References
Banks M, et al. Decreased laboratory-identified Clostridioides difficile Infections with implementation of an electronic hand hygiene monitoring system in a long-term acute care hospital. Open Forum Infectious Diseases, 2019 supplement;6:S425-S425.
Centers for Disease Control and Prevention (CDC). Clean hands count for safe healthcare, 2017.
Eiamsitrakoon T, et al: Hand hygiene behavior: translating behavioral research into infection control practice. Infection Control and Hospital Epidemiology, November 2013;34(11): 1137-1145.
Erasmus V, et al: Systematic review of studies on compliance with hand hygiene guidelines in hospital care. Infection Control and Hospital Epidemiology, 2010;31:283-294.
Kelly JW, et al: Electronic hand hygiene monitoring as a tool for reducing healthcare-associated methicillin-resistant Staphylococcus aureus infection. American Journal of Infection Control, 2016;44:956–957.
McLaws M-L, et al: Hand hygiene compliance rates: Fact or fiction?, American Journal of Infection Control (2018).
Michael H, et al: Durable improvement in hand hygiene compliance following implementation of an automated observation system with visual feedback. American Journal of Infection Control, 2017;45:311-313.
Nour-Omid J. Leapfrog Group adds electronic compliance monitoring to hand hygiene practice standards. Vitalacy Blog, Oct. 8, 2019 and updated Feb. 24, 2020
Pan S-C, et al: Compliance of healthcare workers with hand hygiene practices: independent advantages of overt and covert observers, Public Library of Science, Jan. 14, 2013.
Srigley JA, et al: Quantification of the Hawthorne effect in hand hygiene compliance monitoring using an electronic monitoring system,: a retrospective cohort study, BMJ Quality & Safety, Dec. 2014;23(12):974-980.
Vitalacy, Inc. Finding new ways to prevent healthcare-acquired infections and conditions. Mar. 14, 2019.