Nine hours. That is the newly published survival rate of SARS-CoV-2 on human skin. Nine hours for the virus to travel on a hand when it grabs medical equipment, closes a door or touches a patient.
Compared to nearly two hours for the influenza A virus, the aggressive survival rate of COVID-19 allows for a higher chance of transmission from person to person. As we know, hand hygiene is the best way combat the spread. The study authors conclude, "Proper hand hygiene is important to prevent the spread of SARS-CoV-2 infections."
Since the beginning of the COVID-19 pandemic, the Centers for Disease Control and Prevention (CDC, 2020) recommendation of a hand-wash duration of 20 seconds has become well known. The World Health Organization (WHO, 2009) recommends at least a 20- to 30-second hand wash while emerging research suggest 15 seconds can do the job. The research published in Clinical Infectious Diseases stated SARS-CoV-2 was, "completely inactivated within 15 s by ethanol treatment." Exposing the virus to an appropriate sanitizer amount, concentration and duration matters.
Ways to improve proper hand hygiene in your facility
1. Confirm with your environmental services team that the sanitizer amount released by a single pump is enough to assure effective hand hygiene. It may need to increase. Research summarized in the American Journal of Infection Control (Kenters, et al., 2019) shows that workers often use less sanitizer than is required and that the sanitizer often dries before it can achieve maximum protection against germs.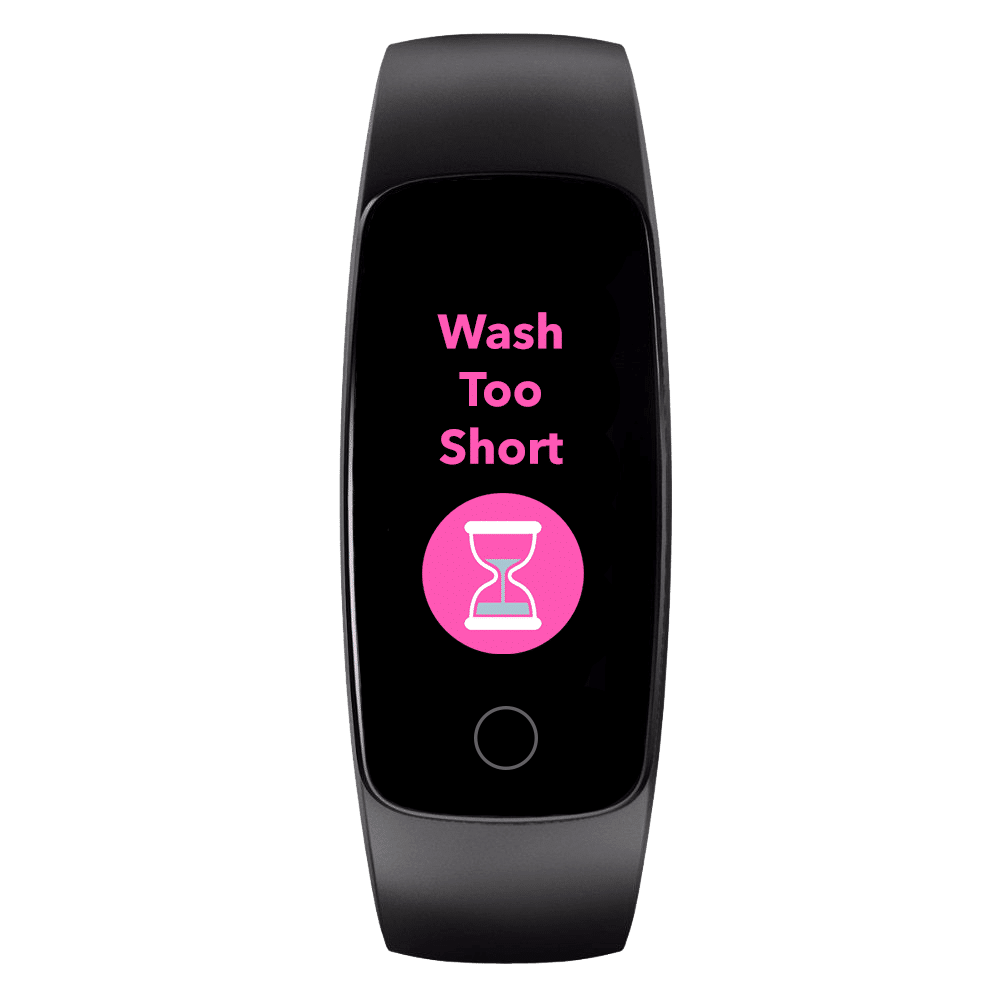 2. Audit hand wash duration. 5 seconds is not enough. Vitalacy's electronic hand hygiene monitoring system is the only one on the market that can track hand wash duration, as well as compliance. The Vitalacy SmartBand, worn on the caregiver's wrist, captures duration data via a built-in accelerometer. Each duration reminder notice consists of a brief text message, which was accompanied by a gentle vibration to the caregiver if the hand-wash was too short.
3. Coach on proper hand washing in a sustained culture of safety. Given the right tools and education, caregivers are accountable for doing the 'right thing' (e.g. washing their hands). Just culture distinguishes between human error (e.g., slips), at-risk behavior (e.g., taking shortcuts), and reckless behavior (e.g., ignoring required safety steps), in contrast to an overarching 'no-blame' approach" (PSNet Safety Primer 2016).
Can improved hand wash duration lead to zero infections? It did for St. Mary's Children's Hospital in Queens, NY.
Read their recent Vitalacy case study here.
References
Centers for Disease Control and Prevention. Show me the science – how to wash your hands. July 12. 2019
Hirose R, et al. Survival of SARS-CoV-2 and influenza virus on the human skin: Importance of hand hygiene in COVID-19. Clinical Infectious Diseases, ciaa1517, October 3, 2020.
Kenters N, et al. Produce dose considerations for real-world hand sanitizer efficacy. American Journal of Infection Control, Published online Jan. 13, 2020.
Weaver S, et al. Promoting a Culture of Safety as a Patient Safety Strategy. Annals of Internal Medicine. Volume 158, Number 5 (Part 2) 369-375, 5 March 2013.