Recent data published by two respected scientific journals show a link between COVID-19 and higher rates of nosocomial infections, also referred to as healthcare-associated infections (HAIs), and demonstrate the importance of hand hygiene compliance in infection prevention.
According to an American Journal of Infection Control (AJIC, 2020) commentary titled "Impact of SARS-CoV-2 on hospital acquired infection rates in the United States," the overwhelming number of COVID-19 cases in hospitals gave infection preventionists less time to focus on HAI surveillance and prevention activities such as hand hygiene compliance monitoring, resulting in higher rates of central line associated blood stream infections (CLABSI) and catheter associated urinary tract infections (CAUTI).
The Centers for Disease Control and Prevention (CDC)'s Morbidity and Mortality Weekly Report (Perez, et al., 2020) detailed an increase in hospital-acquired Carbapenem-Resistant Acinetobacter baumannii (CRAB) in a New Jersey acute care hospital during a COVID-19 surge, again due to reduced attention to infection control and prevention (IPC) measures including hand hygiene compliance.
Both The Joint Commission and Leapfrog Group have toughened hand hygiene compliance requirements
While the CDC and World Health Organization have encouraged hand hygiene compliance monitoring for years, both The Joint Commission and Leapfrog Group have recently stiffened requirements. The Joint Commission now considers an observation of any "individual failure to perform hand hygiene in the process of direct patient care. . . as a deficiency resulting in a requirement for improvement" under its infection control standard. Meeting the Leapfrog Group's hand hygiene standard requires the use of electronic hand hygiene compliance monitoring or direct observation in collecting compliance data on at least 200 hand hygiene opportunities each month (The Leapfrog Group, 2020).
The AJIC commentary stated that COVID-19 caused higher rates of CLABSI compared to pre-COVID rates in two different hospitals. One saw a 420 percent increase – to 5.38 cases per 1,000 central line days, and the second experienced a 327 percent increase – to 3.79 cases per 1,000 central line days. The authors saw smaller increases to CAUTI rates and cautioned about potential increases in other HAIs.
The commentary's authors call for "a continued focus on the 5 moments of hand hygiene, particularly moments 2 (before clean/aseptic tasks) and 3 (after blood/body fluid risk)."
The CDC report describes resource challenges in the New Jersey hospital necessitating changes to IPC measures. As the hospital began admitting what would amount to about 850 COVID-19 patients by August 2020, ventilator circuits and suctioning catheters were replaced less often. To conserve personal protective equipment (PPE), extended-use protocols for N95 respirators and face shields were adopted. Routine audits of hand hygiene compliance were temporarily discontinued.
When the CRAB cluster was identified in early May, the hospital's IPC leadership began to reinforce proper hand hygiene and PPE through unit-based education, and compliance audits were restarted by mid-May.
Latest hand hygiene monitoring technology provides personal reminders and direct feedback to care providers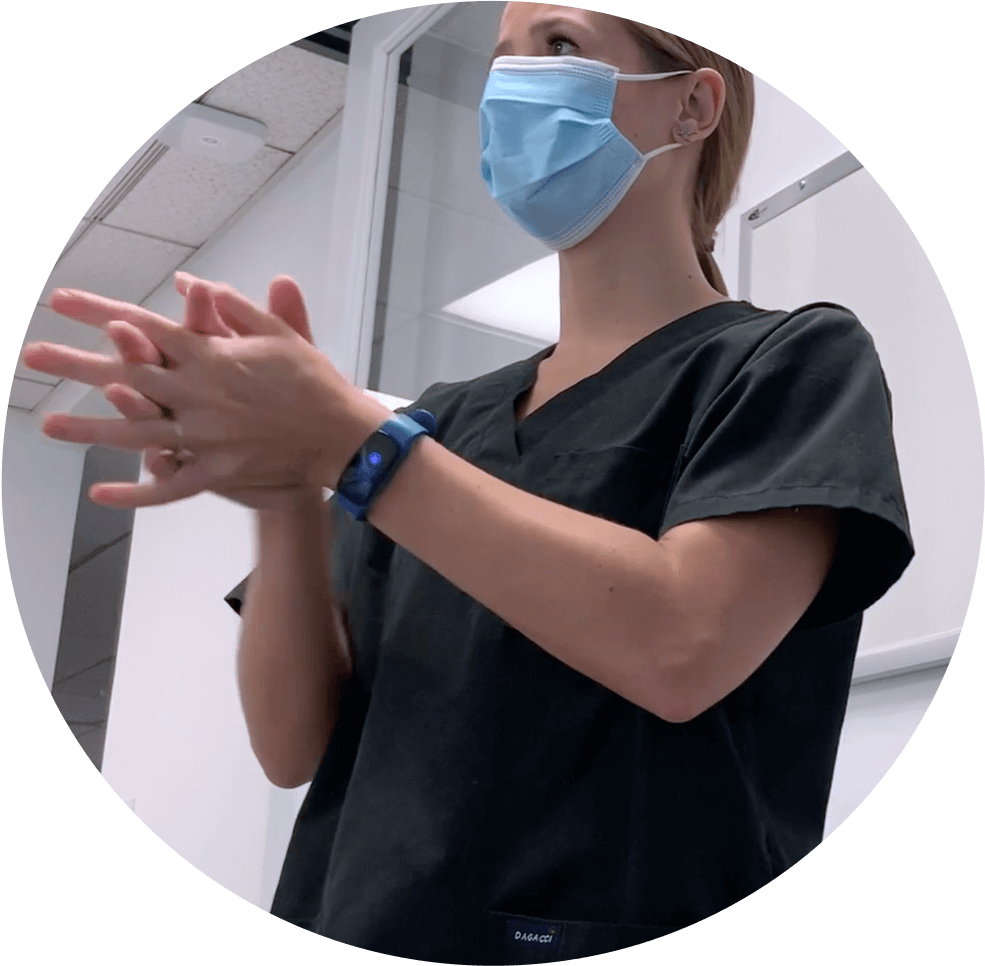 As an example of the latest technology, the article highlights the Vitalacy automated hand hygiene monitoring solution, which was recognized in Newsweek's Best Infection Products (2020) as technology that "continually captures compliance and noncompliance events throughout your facility." The solution facilitates the methods mentioned in the Infection Control Today article by providing private visual and vibration reminders to a SmartBand worn around the wrist and by tracking compliance at an individual level with a Bluetooth sensor.
Vitalacy is the only solution that records and improves hand wash duration – which is proven to reduce infections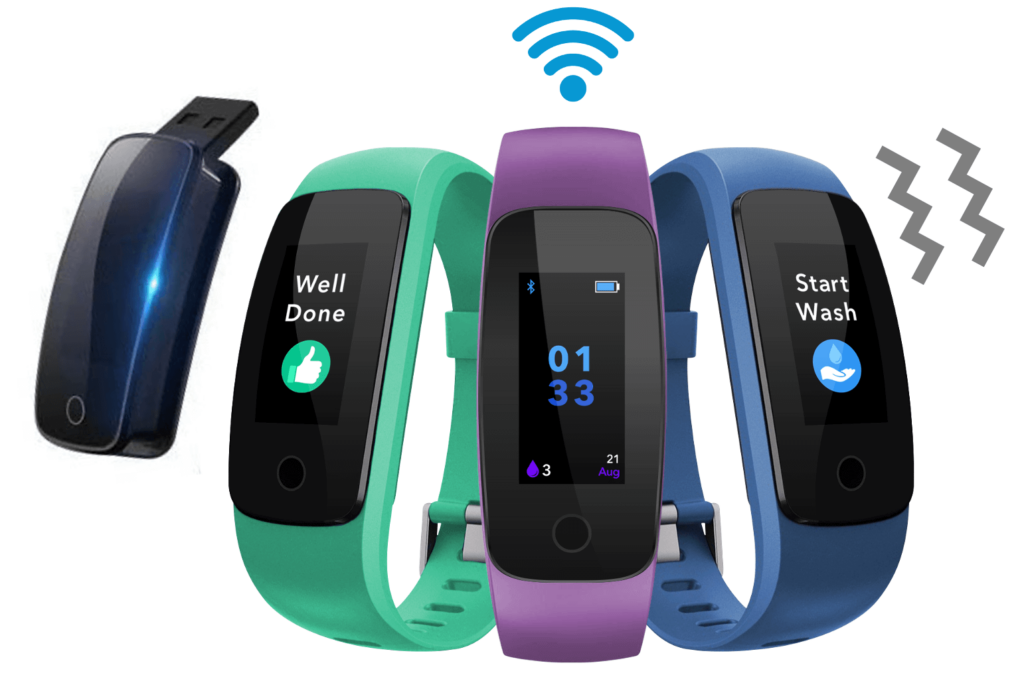 The Vitalacy SmartBand is the only compliance monitoring wearable on the market that records and improves hand wash duration. A Vitalacy implementation at St. Mary's Healthcare System for Children (2020) demonstrated a link between doubling of hand wash duration and lowered infection rates at the hospital's long-term care nursery unit amid the pandemic.
The SmartBand notifications spurred the nursery's team to improve average hand-wash duration from 5.1 seconds on March 1, 2020, to 13.3 seconds on March 31, with the days in between marked by gradual improvement. The month ended with an average hand-wash duration of about 8.0 seconds. In April, the unit average improved to 11.0 seconds and in May to 12.6 seconds. Average duration was 12.3 seconds in June and 11.2 seconds in July.
As a result, the unit had one respiratory infection in March and zero in April, May, June, July and August 2020. There was only one total HAI identified in each of the months of March, April, May and June; two in July; and zero in August 2020.
Request a demo of Vitalacy's Automated Hand Hygiene Monitoring Solution today!
References
Dyer J. Hand hygiene's future: technology, tradition get a grip. Infection Control Today, Jan. 22, 2021,
The Leapfrog Group. Leapfrog Hospital Survey. Factsheet: Hand Hygiene. Last revision: 4/1/2020.
McMullen, KM, et al. Impact of SARS-CoV-2 on hospital acquired infection rates in the United States: Predictions and early results. Nov. 1, 2020;48(11):1409-1411.
Newsweek. Best Infection Prevention Products. May 6, 2020.
Perez S, et al. Increase in hospital-acquired Carbapenem-Resistant Acinetobacter baumannii infection and colonization in an acute care hospital during a surge in COVID-19 admissions — New Jersey, February–July 2020. Centers for Disease Control and Prevention. Morbidity and Mortality Weekly Report. Dec. 4, 2020;69(48):1827–1831
Vitalacy News Release. St. Mary's Children's Hospital doubles hand wash duration and lowers infections with Vitalacy. Sept. 16, 2020.
###