COVID infections are down across the nation, and masks are becoming optional in various settings across the United States. With many Americans looking forward to mask-less social encounters, how do they feel about another important infection prevention method — handwashing — right now? The Healthy Handwashing Survey, conducted periodically since 2009 by Bradley Corporation, provides some insight.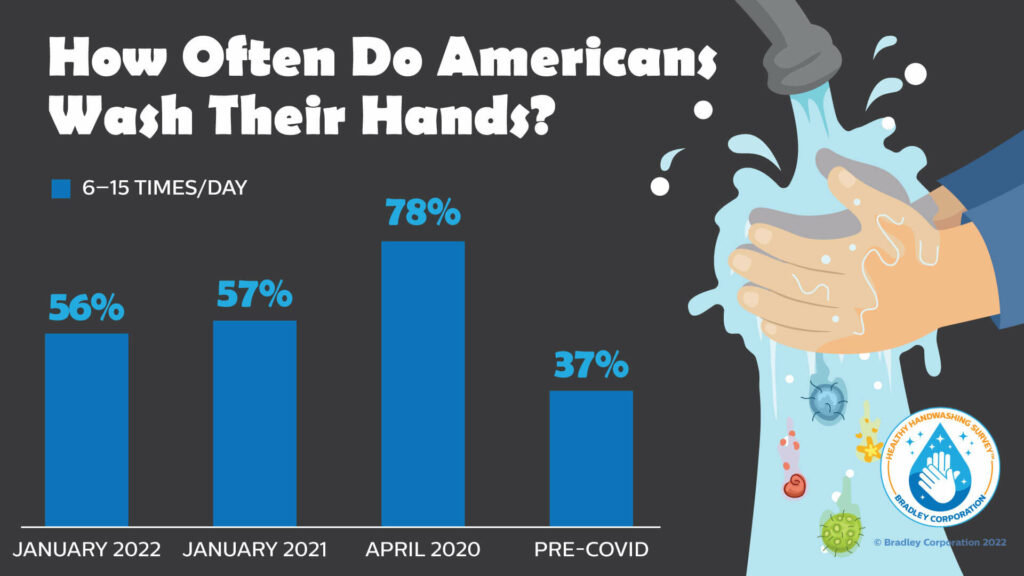 While the survey found that handwashing frequency declined among adults queried in January 2022 compared to those questioned when the coronavirus first hit, the frequency remains much higher than it was pre-COVID. Americans are still washing their hands nearly eight times per day, compared to 10.5 times per day at the height of COVID worry in April 2020. Before the COVID pandemic, only 37% of those surveyed reported washing their hands six or more times per day.
The survey also shows that Americans are more aware of how germs are spread than they were before the pandemic, and that most of us wash their hands for 20 seconds or more. A Vitalacy study at St. Mary's Healthcare System for Children found that longer wash duration times reduced healthcare-acquired infections. Vitalacy's SmartBand automated hand hygiene monitoring technology solution measures duration, which can be compared to your hospital's infection count.
What was COVID's impact on hand hygiene among healthcare organizations and workers?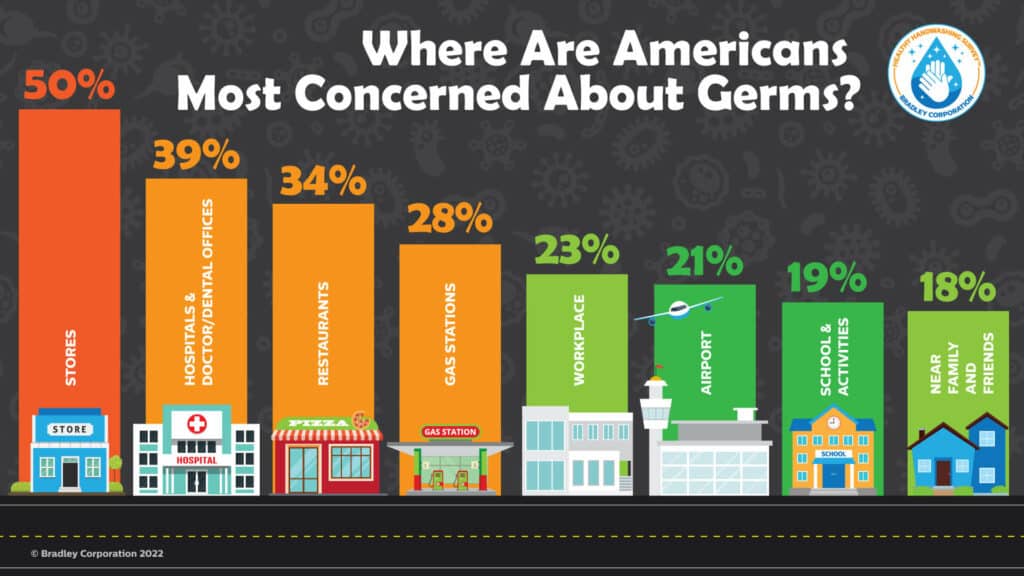 The Bradley survey also found that hospitals and other healthcare settings are locations where Americans are most concerned about germs. After showing steady improvement on hand hygiene compliance before COVID and during the early stages of the pandemic, healthcare organizations slipped backwards on compliance as the pandemic wore on (Moore, et al., 2021).
Possible reasons for decreased compliance include increased workload, concerns over limited supplies of hand hygiene products, more use of gloves instead of hand hygiene, and a reduced focus on hand hygiene compliance due to competing pandemic-related priorities (Moore, et al., 2021).
While reducing the spread of COVID, the hyperfocus on this particular pathogen led to an increase in other kinds of healthcare-acquired infections (HAIs) including central-line-associated bloodstream infections (CLABSIs), catheter-associated urinary tract infections (CAUTIs), ventilator-associated events (VAEs), and methicillin-resistant Staphylococcus aureus (MRSA) bacteremia (Weiner-Lastinger, et al., 2021).
The COVID experience shows the importance of continually promoting hand hygiene improvement initiatives, according to Stangerup, et al., 2021. This study found that the hand hygiene compliance of health care workers dropped after they stopped receiving data about their hand hygiene performance, demonstrating that "health care workers fall back into old hand hygiene routines once improvement initiatives are stopped."
How to put hand hygiene compliance initiatives back on track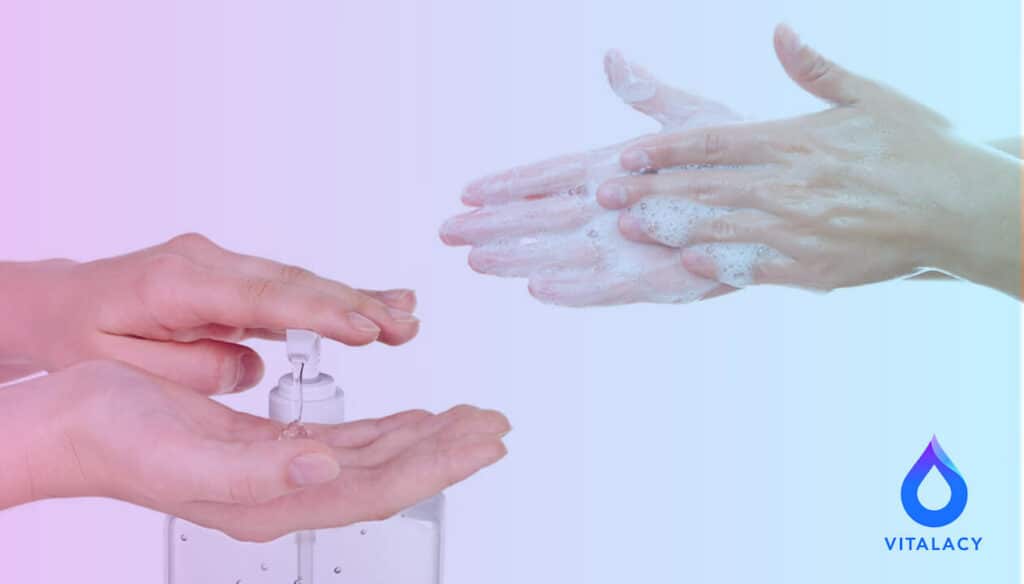 Per our experience with healthcare organizations across the nation, the Vitalacy team has identified five ways to get your hand hygiene compliance initiatives back on track:
1. Reintroduce hand hygiene performance data. Many healthcare organizations stopped emphasizing or communicating hand hygiene performance data during the pandemic. Now is a good time to reintroduce these data to see where your organization stands and to use your current performance as a baseline for future efforts. In addition, reevaluate the accuracy and quantity of your data by comparing your methods with the Leapfrog Group's standard of 200 observations per month per unit to achieve accurate results. Vitalacy's new SmartBadge provides a cost-efficient way of meeting the Leapfrog Group's hand hygiene standards.
2. Educate, educate, educate. Emphasize the connection between hand hygiene compliance and reduced HAIs; this correlation will have more relevance than ever to health care workers, now that they've experienced the COVID pandemic. Better hand hygiene equals less illness and less deaths.
3. Initiate a discussion. Engage healthcare workers in a discussion about how they would improve hand hygiene compliance, from their perspective. Having this discussion will not only gain their ideas; it will make them part of the solution and provide nurse managers and infection prevention and control specialists the opportunity to address any myths and misperceptions.
4. Gain buy-in. Before introducing potential ways to improve hand hygiene compliance, gain buy-in on the need to improve compliance by identifying and engaging informal leaders, change agents and role models among your staff. Explain thoroughly how personal feedback about hand hygiene performance will be provided to workers in a non-punitive fashion in the effort to improve safety and save lives.
5. Invest in appropriate technology. Consider the use of automated hand hygiene monitoring technology, which several studies have shown to be more accurate than direct observation. See Vitalacy's three-part series on how to make a financial case for this investment — Part 1, 2 and 3.
Request a demo today to learn more about which Vitalacy solution will work best for you.
References
Moore LD, et al. The impact of COVID-19 pandemic on hand hygiene performance in hospitals. American Journal of Infection Control, Jan. 2021;49(1):30-33.
Strangerup M, et al. Hand hygiene compliance of healthcare workers before and during the COVID-19 pandemic: a long-term follow-up study. American Journal of Infection Control, Sept. 2021;49(9):1118-1122.
Weiner-Lastinger LM, et al. The impact of coronavirus disease 2019 (COVID-19 on healthcare-associated infections in 2020. A summary of data reported to the National Healthcare Safety Network. Infection Control and Hospital Epidemiology, Sept. 3, 2021.
###