When evaluating the many automated hand hygiene compliance monitoring solutions on the market, it's easy to get bogged down in technical details. To gain the best return for your initial investment in one of these solutions, I suggest focusing on five telling indicators of solution quality: accuracy, adaptability, ease of use, measurability, and versatility.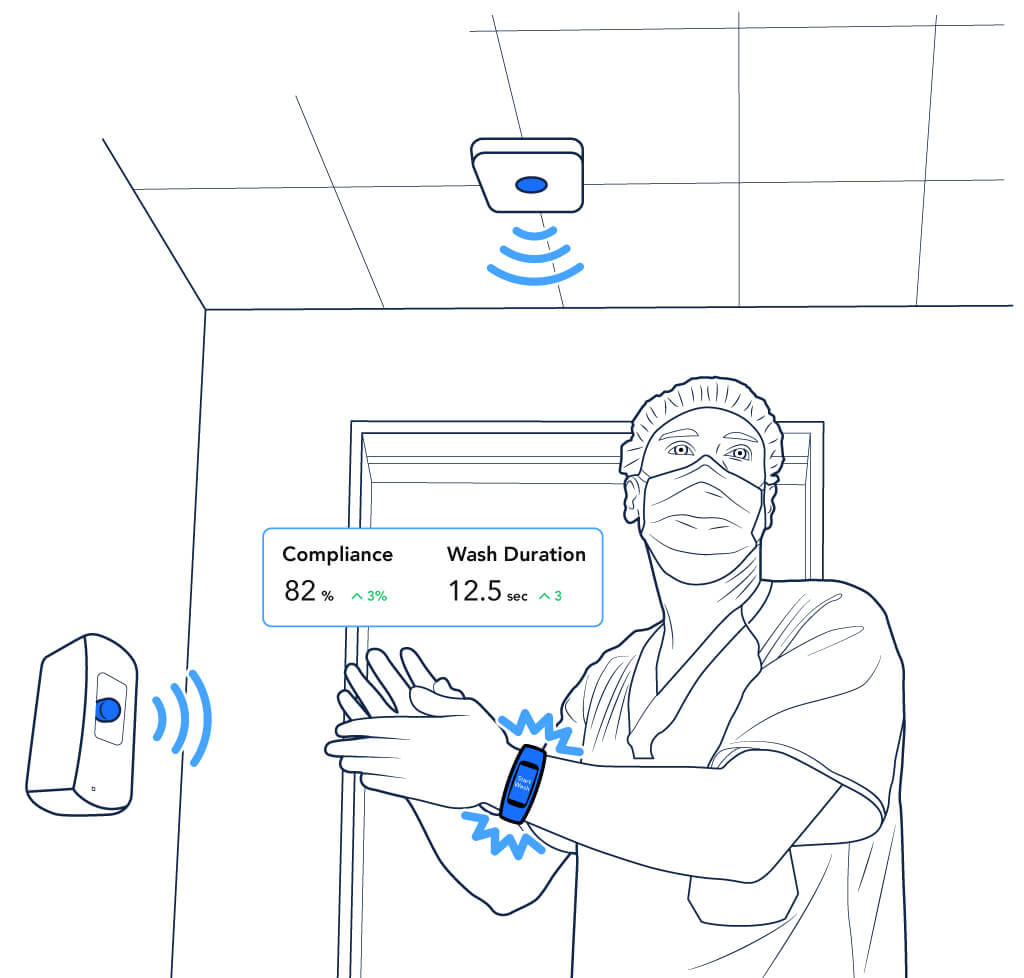 1. Accuracy
The ability to measure virtually all hand wash opportunities for compliance is the main advantage of automated hand hygiene compliance monitoring over traditional direct observational methods.
Automated monitoring has the ability to capture true compliance by including all hand wash opportunities and events in the compliance measure. Direct observation measures only a small percentage of these opportunities and inflates the compliance percentage because health care workers tend to practice better compliance when they know they are being observed than when they are not.
Still, differences exist between monitoring solutions that affect the accuracy of the measure. Vendors use a variety of wireless technologies, including Bluetooth wireless, infrared wireless, cellular and RFID (radio-frequency identification), to achieve varying levels of accuracy. When meeting with potential vendors, learn about the purposes these technologies serve within the solution and the advantages or disadvantages of each one. Bluetooth, for example, offers economy of scale and a growing community of users, developers and hardware manufacturers that achieves better accuracy and range. In addition, ask if the solution measures true compliance or "estimated" compliance.
2. Measurability
Automated hand hygiene compliance measurement can mean many different things. The various solutions on the market have capabilities of measuring different aspects of hand hygiene compliance in different ways. Ask if the solution you are considering measures the compliance of individual health care workers or only performance by group, location or shift. Does the solution monitor both compliant and non-compliant hand hygiene events? Having the ability to measure individual compliance drives care provider's engagement in the solution by making them accountable and motivated for personal compliance.
Does the solution measure handwash duration? Longer handwashes have been linked to lower infection rates (Bin Abdulrahman, et al., 2019, Harnoss et al. (2020); Pires at al. (2017) & Kramer et al. (2017). Which handwash locations are used most frequently? Are reports in real-time or not? What kinds of reports can be viewed by individual care providers, unit managers, and organizational leadership? How do the compliance reports correlate with infection data reports? Are reports easily accessible via the web or an app? How user friendly is the navigation?
3. Adaptability
Having a new automated hand hygiene compliance solution that is mostly off-grid is ideal. Your pre-existing technologies and infrastructure may include soap dispensers, workflows, patient safety dashboards or reports, the organization's information technology network, Wi-Fi systems, and more. The less you have to change, the less hassle for your team and organization. Vitalacy's solution uses existing Wi-Fi to handle 90 percent of troubleshooting remotely should any occur.
Installation should not be a headache and should not have a great impact on current systems. The automated hand hygiene compliance solution should be adaptable to your situation and should not depend on significant changes on your part. For example, Vitalacy produces small lightweight sensors, called dispenser sensor tags, that adhere to existing soap dispensers, turning them into hand hygiene monitoring tools with a simple peel and stick. The only solution components requiring power and plug-in are charging stations.
In addition, the investment you make in the solution should be in line with your organization's goals and budget. For example, you may wish to start with a pilot project, or in a unit with a particular need, at first. For example, St. Mary's Healthcare System for Children in Queens, N.Y., implemented an automated hand hygiene compliance solution in its long-term care nursery for medically fragile children. After having the highest infection rate in the facility, the unit drove infections down to near zero through improved hand-wash duration by the nursery's team members.
4. Ease of Use
Creating enthusiasm among the health care workers who will use the new automated hand hygiene compliance solution each day is vital to success. For this reason, the solution you choose must engage them achieving a purposes consistent with why they come to work each day – to keep their patients safe and to achieve optimal health outcomes.
Find a solution that provides gentle reminders (visual and vibration reminders vs. audible beeps or rings) and positive, real-time performance feedback at the point of care that engages care providers to contribute to improved hand hygiene. There are fun solutions on the market that can turn the drudgery of what may be seen as another new technology initiative into a rewarding pursuit.
5. Versatility
The most complete solutions provide insights beyond hand hygiene compliance, measuring workflow activities including nursing rounding compliance, patient bed visits, visit duration, time of visit, and more. Data gathered in this fashion can uncover workflow inefficiencies and lead to better patient care. For example, Vitalacy's solution records patient room entry/exit/bed visits by caregivers wearing a Vitalacy SmartBand or SmartBadge. Know who visited a room, when and for how long.
Vitalacy is proud of the results it has achieved on all five measures described in this article. The company's automated hand hygiene compliance monitoring solution continuously captures compliance and non-compliance events throughout your facility with real-time handwash reminders at point-of-care. Vitalacy's solution was recently recognized in Newsweek's Best Health Care 2020 in partnership with the Leapfrog Group as one of the best monitoring products for infection prevention.
Request a demo of Vitalacy's Automated Hand Hygiene Monitoring Solution today!
References
Bin Abdulrahman AK, et al. Do various personal hygiene habits protect us against influenza-like illness? BMC Public Health (2019) 19:1324.
Harnoss JC, et al. Hand antisepsis without decreasing efficacy by shortening the rub-in time of alcohol-based handrubs to 15 seconds. Journal of Hospital Infection, April 1, 2020;104(4):419-424.
Kramer A, et al. Shortening the application time of alcohol-based hand rubs to 15 seconds may improve the frequency of hand antisepsis actions in a neonatal intensive care unit. Infection Control & Hospital Epidemiology, December 2017;38(12):1430-1434.
Pires D, et al. Hand hygiene with alcohol-based hand rub: how long is long enough? Infection Control & Hospital Epidemiology, May 2017;38(5):547-552.
###