Facing severe economic pressure due to COVID-19 restrictions on travel and restaurant capacity, businesses and entrepreneurs in the hospitality sector needed to think fast and big about how to stay financially viable.
A company called Butler Hospitality seized upon this opportunity to develop a profitable way to bring the delectable creations of culinary professionals to hotel room service. By applying Vitalacy's health technology to a concept called "ghost kitchens," Butler can prepare and deliver food to hotel guests safely.
What exactly is a 'ghost kitchen?'
Ghost kitchens are commercial kitchens transformed to prepare food and deliver it to multiple locations. With a focus on hotel kitchens and restaurants, Butler has turned loss-leading hotel restaurants into reliable profit generators by implementing the ghost kitchen concept now with a health technology twist.
The company started in 2016 by serving hotels in New York City's Times Square through a single kitchen in this bustling area. Since then, the company expanded to serve more than 50 Times Square hotels through a network of ghost kitchens, with some located in these same hotels. Butler's next step was expanding into Chicago, Miami and Washington, D.C. – and the company plans to serve six more U.S. markets by January 2022.
Kitchen and delivery staff wear Vitalacy SmartBands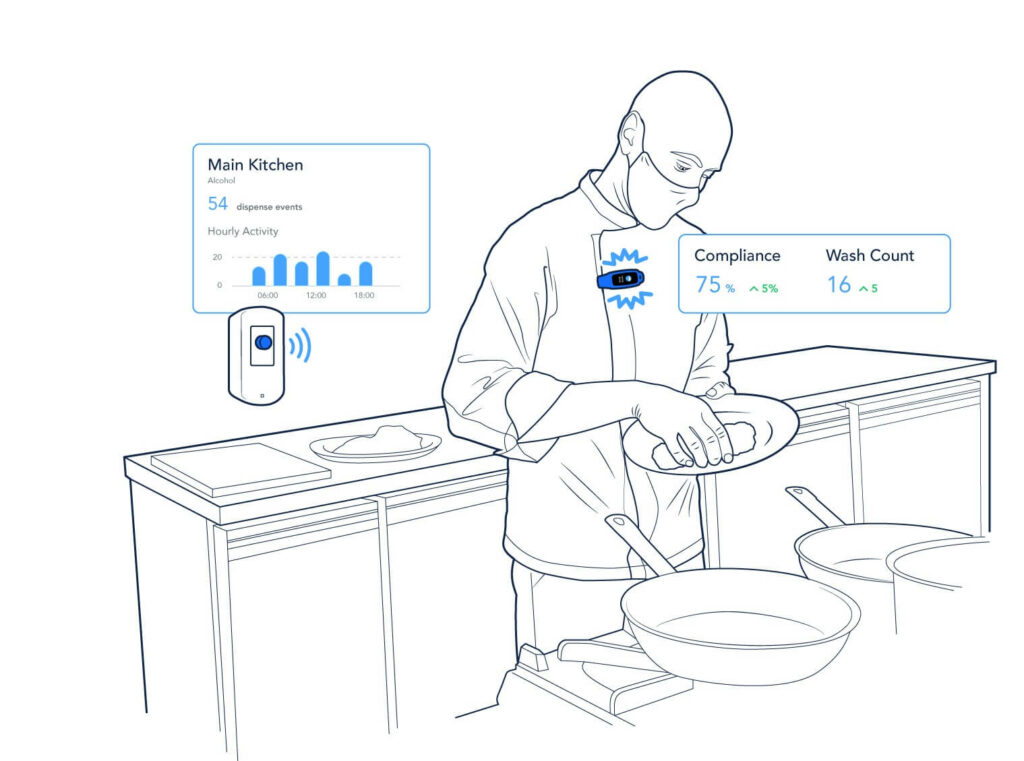 With hotel and restaurant guests still concerned about contracting COVID-19, Butler secures a confident and safe delivery service experience through the use of innovative technology – once found only in health care settings – to lower risk of infection spread.
Once a guest in a hotel served by Butler orders room service, the food is prepared and delivered by face-masked and physically distanced employees who wear Vitalacy SmartBands on their wrists. These bands serve several functions – all of which help to reduce the risk of COVID-19 and other infectious illnesses.
First, the Vitalacy Smartbands provide reminders to hand wash at least once an hour through the use of soap dispensers conveniently located near where the food is prepared by kitchen workers and picked up by delivery staff.
Second, while an employee washes their hands, the band provides a 10-second count to help achieve the proper hand wash duration, which Vitalacy has linked to reduced infection rates (see St. Mary's example below).
And third, the bands have a contact tracing function. Employees who have been in close contact with an employee who contracts COVID-19 can be properly tested and quarantined.
Company managers receive data summarizing employee hand wash compliance, soap dispenser use, and average wash duration, as well as contact tracing reports through an online dashboard.
Vitalacy technology has proved to be effective in health care settings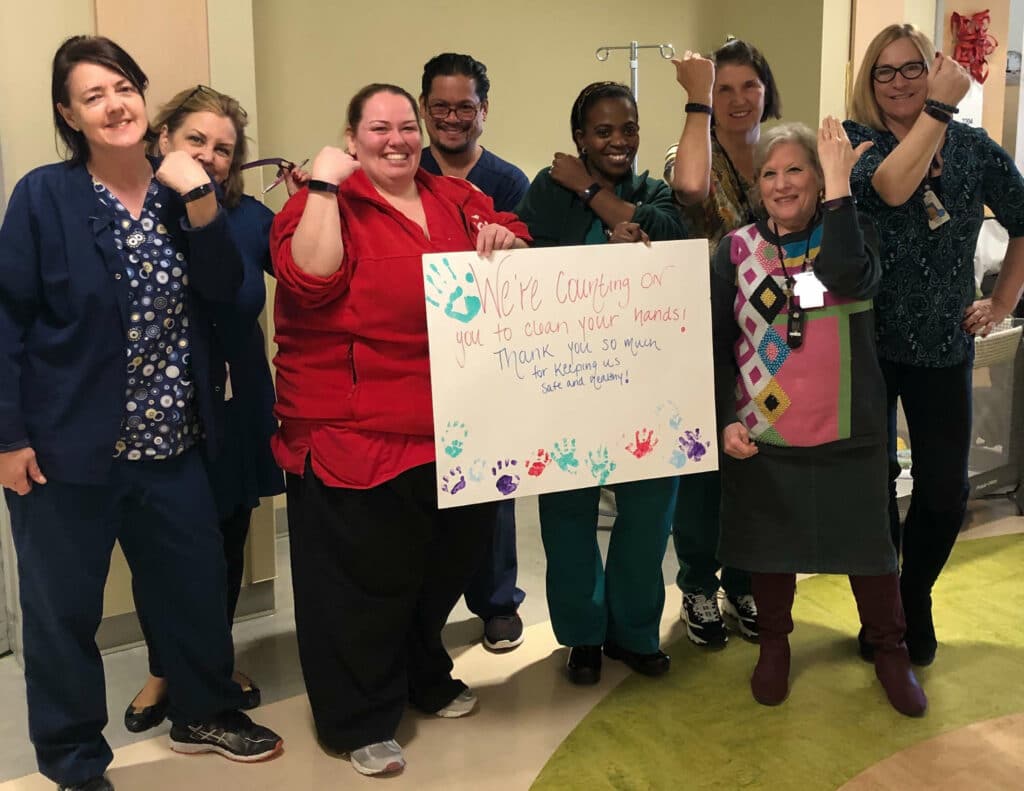 The Vitalacy SmartBand technology has proved its effectiveness within health care settings. A Vitalacy implementation at St. Mary's Healthcare System for Children (2020) demonstrated a link between doubling of hand wash duration and lowered infection rates at the hospital's long-term care nursery unit amid the pandemic.
The SmartBand's hand wash reminders spurred the nursery's team to improve average hand-wash duration from 5.1 seconds on March 1, 2020, to 13.3 seconds on March 31, with the days in between marked by gradual improvement. The month ended with an average hand-wash duration of about 8.0 seconds. In April, the unit average improved to 11.0 seconds and in May to 12.6 seconds. Average duration was 12.3 seconds in June and 11.2 seconds in July.
As a result, the unit had one respiratory infection in March and zero in April, May, June, July and August 2020. There was only one total healthcare-acquired infection identified in each of the months of March, April, May and June; two in July; and zero in August 2020. These low numbers continued into 2021.
Butler takes pride in its response to COVID-19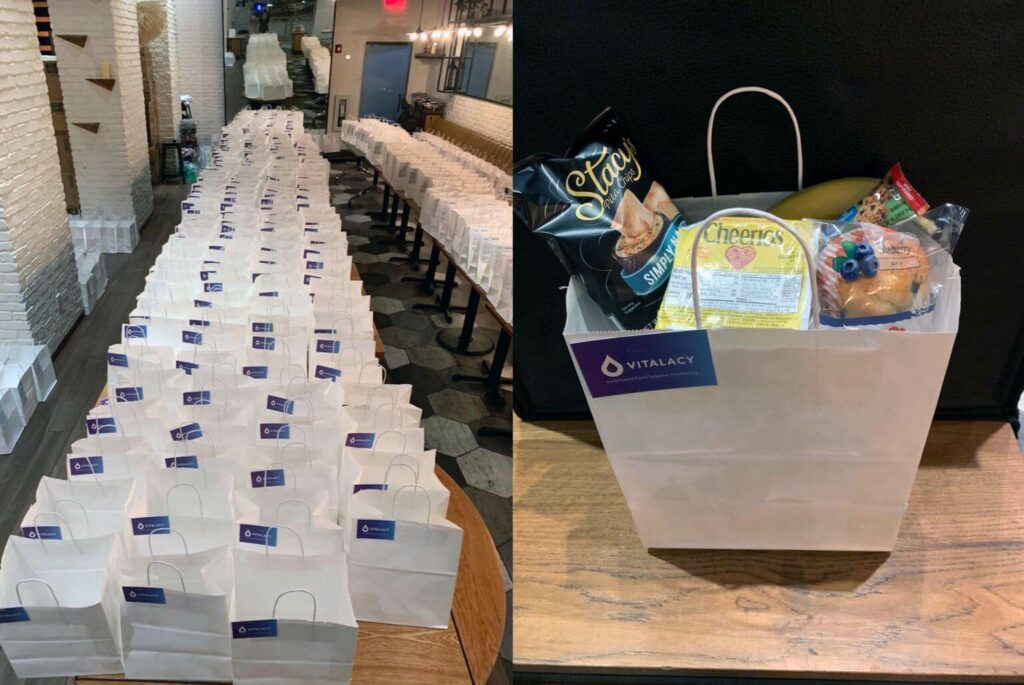 Butler (2020) played a role in helping New York City respond to the COVID-19 disaster the city faced during the spring of 2020. Butler worked with first responders to deliver over 175,000 meals to healthcare workers, quarantined senior citizens, COVID-19 patients, and military personnel staying in partner hotels.
"Butler's partnership with Vitalacy reflects our longstanding commitment to leading the hospitality industry to a safe and healthful recovery for the benefit of our staff, hotel partners, and guests," Butler Hospitality CEO & Founder Tim Gjonbalic.
Request a demo of Vitalacy's Automated Hand Hygiene Monitoring Solution today!
References
Butler Hospitality News Release. Butler Hospitality, Ghost Kitchen for Hotels, Valued at $85M, Raises $15M Series A, July 10, 2020
Vitalacy News Release. Butler Hospitality Protects Workforce with Hand Wash Technology. Aug. 27, 2021.
Vitalacy News Release. St. Mary's Children's Hospital doubles hand wash duration and lowers infections with Vitalacy. Sept. 16, 2020.