It's almost impossible to discuss the changing healthcare landscape without acknowledging the shift into consumerism.

Today, Americans don't just shop for clothing, cars, food, or homes. They shop around for their healthcare. And as cases of hospital-acquired infections (HAIs) continue to make the news, they might just start wondering about hospital safety ratings.
It's yet another reason to have a strong hand hygiene program in place for your organization. Unfortunately, for many providers, that's a challenge to accomplish.
How High Are Hand Hygiene Compliance Rates?
Among healthcare workers, compliance rates with hand hygiene standards average around 40%, according to the Centers for Disease Control and Prevention.
Over the past few years, several studies have offered other insights into compliance rates among healthcare workers:
Hand hygiene rates drop from the beginning to the end of a 12-hour shift, by an average of 8.7%. This decline increases with intensity of work.
Longer breaks between shifts increase compliance.
When workers are aware of being observed, they are 30% more likely to follow hand hygiene recommendations.
Direct observation may produce an inaccurate picture of hand hygiene compliance rates. One study showed an adherence rate of 60% when workers knew they were being watched—but only 10% when the hospital used an objective monitoring system (i.e., video cameras).
Nurses may have higher compliance rates than physicians (76% compared to 52%).
Hospital administrators often believe that their facility does not have a problem with hand hygiene.
Where Are Patients Searching?
One of the most well-known resources for objective data on patient safety is Leapfrog. This website scores hospitals on several safety measures, such as infection prevention, appropriate use of antibiotics, and re-admissions.
Leapfrog provides in-depth data on these measures. For example, the "Steps to Avoid Harm" category is broken down into specific subcategories, including adherence to proper handwashing protocols.
Healthcare consumers are able to choose up to three hospitals at a time and compare how each one ranks.
Hospital A: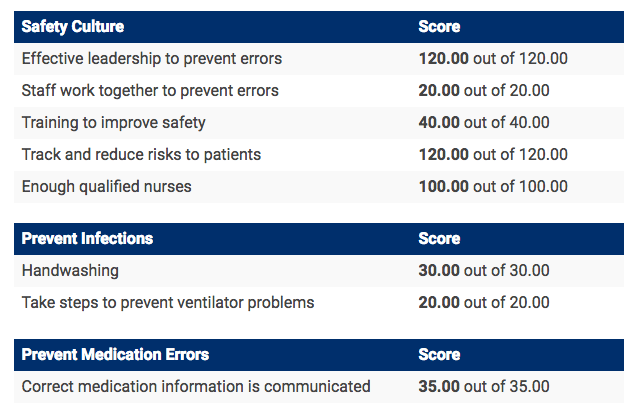 Hospital B: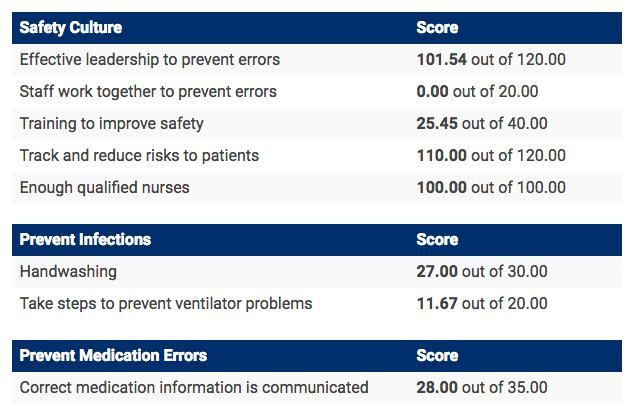 Leapfrog may be a popular site for this information, but it's hardly in a class of its own. Many tools exist for patients to compare hospital safety grades, including:
Joint Commission Quality Check: Lists organizations given the Gold Seal of Approval by the Joint Commission. Criteria for approval include implementation of infection control measures (e.g., meeting hand hygiene guidelines, preventing surgical site infections)
Consumer Reports Hospital Ratings: Provides statewide data on how well hospitals have prevented common hospital-acquired infections (e.g., C.difficile, MRSA)
Medicare Hospital Compare: Compares Medicare-certified hospitals' quality of care, and reports how each hospital's rate of healthcare-acquired infections compares to national averages
Many patients also use less data-driven sources when searching for a provider. They may use general business review sites, such as Yelp, or sites geared specifically towards healthcare, such as RateMDs.
The bottom line: There are plenty of places consumers can find out about your HAI rate. These numbers need to be critical matters not just to infection control directors, but to hospital management in general.
By the Numbers
Patients may be searching for data, but are they actually using it? Do user reviews make a difference? Do they care more about safety or cost?
Reports and studies from across the country have broken those answers down by the numbers.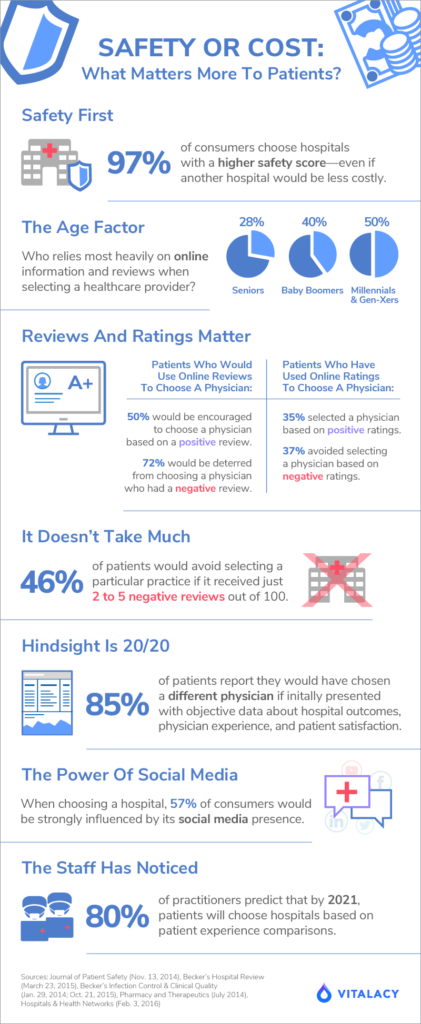 As online reviews and ratings become more popular—and as consumerism continues to push its way into healthcare—patient safety is primed to become more important than ever before. Hospital-acquired infections can hurt a hospital's credibility and online reputation, resulting in fewer patients choosing institutions with high infection rates.
With patients relying on the experiences of others when making decisions about where to seek care—and with possibly 97% of patients choosing safety over price—infection prevention and handwashing protocols must be a top priority for hospitals.
Proper hand hygiene is ground zero for infection prevention. Learn more about our hand washing tool for healthcare facilities: https://vitalacy.com
Request a demo of Vitalacy's Automated Hand Hygiene Monitoring Solution today!