The first-ever Global Report on Infection Prevention and Control from the World Health Organization (WHO) shows that good hand hygiene and other cost-effective infection prevention and control (IPC) practices can prevent 70% of nosocomial infections also referred to as healthcare-acquired infections (HAIs).
In addition, the new report states that hand hygiene and environmental hygiene in health care facilities reduced the risk of dying from an infection with antimicrobial-resistant (AMR) pathogens by more than 50% and decreased associated long-term complications and health burden by at least 40%. Improving hand hygiene in health care settings could save about $16.50 in reduced health care expenditure for every dollar invested.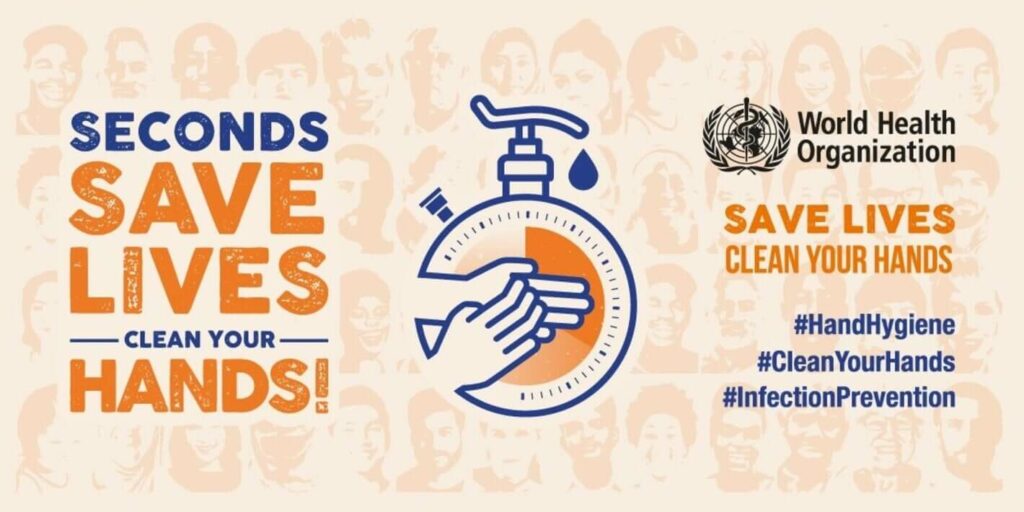 To emphasize the importance of hand hygiene in preventing and controlling infections, WHO previewed the report on World Hygiene Day (May 5). The report brings together evidence from scientific literature and various reports cited in this article, as well as new data from WHO studies.
"Whether implemented as a stand-alone intervention or integrated into multifaceted interventions, hand hygiene has been highlighted as the most effective single measure to reduce the transmission of microorganisms/pathogens and infection in health care settings," the report states (Zhu, et al., 2021; Buetti, et al., 2021).
Other key findings summarized in the report:
Enabling and ensuring appropriate hand hygiene was cost-saving in all populations tested, from health workers to visitors (Barker, et al., 2020; OECD, 2018; Graves, et al., 2016; Luangasanatip, et al., 2018; Thi Anh Thu, et al., 2015).
Available data and modelling suggest that IPC is highly cost-effective and a "best buy" for public health as an approach to reducing infections and AMR in health care, improving health and protecting health care workers.
Landmark institutional reports, such as those of the World Bank and the Organisation for Economic Co-operation and Development (OECD), confirmed the positive return on investment into appropriate IPC implementation and enforcement, particularly hand hygiene.
Hand hygiene, the availability and correct use of personal protective equipment (PPE), and IPC training decreased the risk of COVID infection (Chou, et al., 2020). Not performing hand hygiene after close patient contact was associated with COVID infections among health workers, according to the report.
Despite the health and economic benefits, hand hygiene compliance remains suboptimal
Hand hygiene compliance during health care delivery remains suboptimal around the world, the report states, with an average of 64.5% compliance levels in intensive care units located in high-income countries such as the United States (WHO Regional Office for Europe, 2021). The average hand hygiene compliance level – in the absence of specific interventions aimed at improving compliance – averaged 40% to 50%, but was as low as 20%, even in high-income countries (Allegranzi, et al., 2017; Rosenthal, et al., 2016).
According to compelling evidence and the WHO's own research in the field of hand hygiene, multimodal improvement strategies are the gold standard IPC interventions (Zhu, et al., 2021; Grasselli, et al., 2021; WHO, 2022; WHO, 2021). These strategies include 1) system change (infrastructure, equipment and supplies), 2) training and education, 3) monitoring and feedback, 4) reminders and communications, and 5) safety climate and culture change. WHO recommends as a minimum requirement for IPC that health care facilities should implement multimodal strategies to achieve hand hygiene improvement.
Sustained improvement of hand hygiene practices can occur only within an enabling organizational safety climate, the report says. Yet, within the five multimodal hand hygiene improvement strategies, the element scoring lowest among surveyed organizations was having a safety climate for hand hygiene (CDC, 2021). The lack of patient engagement and absence of hand hygiene leaders were the main drivers for the low safety climate score (De Kraker, et al., 2019).
Vitalacy's hand hygiene system meets all five WHO multimodal strategies, as well as Leapfrog standards
Providing more accurate and comprehensive hand hygiene compliance information than direct observation, the Vitalacy Hand Hygiene Compliance Monitoring System provides all of the infrastructure, equipment and supplies needed to performance 24/7 compliance monitoring meeting Leapfrog Group hand hygiene standards. Through the Vitalacy Workgroup, Vitalacy's implementation team engages with healthcare organization staff to provide training, education and change management leading to improved compliance. The system summarizes compliance data quickly and provides actionable feedback through customizable reports made available on individual care provider, shift, unit and organizational levels. Vitalacy's SmartClip and SmartBand wearables spur hand hygiene improvement with real-time reminders at the point of care.
Request a demo today to learn more about a Vitalacy solution that will work best for your organization.
References
Allegranzi B, Damani N, Gayet-Ageron A, Stewardson A, Wallace S, Pittet D. World Health Organization period prevalence survey on multidrug-resistant microorganisms in health care. 27th European Congress of Clinical Microbiology and Infectious Diseases (ECCMID), Vienna, Austria, 22-25 April 2017. E-poster no. EP049.
Barker AK, Scaria E, Safdar N, Alagoz O. Evaluation of the cost-effectiveness of infection control strategies to reduce hospital-onset Clostridioides difficile infection. JAMA Netw Open. 2020;3(8):e2012522.
Buetti N, Ruckly S, de Montmollin E, Reignier J, Terzi N, Cohen Y, et al. COVID-19 increased the risk of ICU-acquired bloodstream infections: a case–cohort study from the multicentric OUTCOMEREA network. Intensive Care Med. 2021;47(2):180-7.
Centers for Disease Control and Prevention; Candida Auris [website]. 2021.
Chou R, Dana T, Buckley DI, Selph S, Fu R, Totten AM. Epidemiology of and risk factors for coronavirus infection in health care workers: a living rapid review. Ann Intern Med. 2020 Jul 21;173(2):120-136. Update in: Ann Intern Med. 2022 Jan;175(1):W8-W9.
De Kraker MEA, Tartari E, Tomczyk S, Twyman A, Francioli L, Cassini A, et al. Implementation of hand hygiene in health-care facilities: results from the WHO Hand Hygiene Self-Assessment Framework global survey 2019. Lancet Infect Dis. S1473-3099(21)00618-6.
Grasselli G, Scaravilli V, Mangioni D, Scudeller L, Alagna L, Bartoletti M, et al. Hospital-acquired infections in critically ill patients with COVID-19. Chest. 2021;160(2):454-65.
Graves N, Page K, Martin E, Brain D, Hall L, Campbell M, et al. Cost-effectiveness of a national initiative to improve hand hygiene compliance using the outcome of healthcare associated Staphylococcus aureus bacteraemia. PLoS One. 2016;11(2):e0148190.
Luangasanatip N, Hongsuwan M, Lubell Y, Limmathurotsakul D, Srisamang P, Day NPJ, et al. Cost-effectiveness of interventions to improve hand hygiene in healthcare workers in middle-income hospital settings: a model-based analysis. J Hosp Infect. 2018;100(2):165-75.
Organisation for Economic Development (OECD). Stemming the Superbug Tide: Just A Few Dollars More. 2018.
Rosenthal VD, Al-Abdely HM, El-Kholy AA, AlKhawaja SAA, Leblebicioglu H, Mehta Y, et al. International Nosocomial Infection Control Consortium report, data summary of 50 countries for 2010-2015: Device-associated module. Am J Infect Control. 2016;44(12):1495-504.
Thi Anh Thu L, Thi Hong Thoa V, Thi Van Trang D, Phuc Tien N, Thuy Van D, Thi Kim Anh L, et al. Cost-effectiveness of a hand hygiene program on health care-associated infections in intensive care patients at a tertiary care hospital in Vietnam. Am J Infect Control. 2015;43(12):e93-9.
World Health Organization, 2022. How global research can end this pandemic and tackle future ones.
WHO Regional Office for Europe, European Centre for Disease Prevention and Control, 2021. Surveillance of antimicrobial resistance in Europe, 2020 data. Executive Summary.
World Health Organization, 2021. Infection prevention and control during health care when coronavirus disease (COVID-19) is suspected or confirmed: interim guidance.
Zhu NJ, Rawson TM, Mookerjee S, Price JR, Davies F, Otter J, et al. Changing patterns of bloodstream infections in the community and acute care across 2 coronavirus disease 2019 epidemic waves: a retrospective analysis using data linkage. Clin Infect Dis. 2021; ciab869.