A recent Centers for Disease Control and Prevention study about drug-resistant germs (CDC, 2019) continuing to pose a threat to patient safety renewed the Vitalacy team's attention to a 2018 study specifically related to hand hygiene.
"Increasing tolerance of hospital Enterococcus faecium to handwash alcohols" (Pidot et al., 2018) presents data showing that infections caused by E. faecium are increasing due to this bacterium's tolerance to alcohol used as a killing agent. The study tested the alcohol tolerance of 139 hospital isotopes of E. faecium obtained between 1997 and 2015.
The study shows that bacteria can develop resistance not only to antibiotic medicines per se, but to other substances, such as alcohol, as well. These findings provide more evidence of how bacterial adaptation is complicating hospital infection control.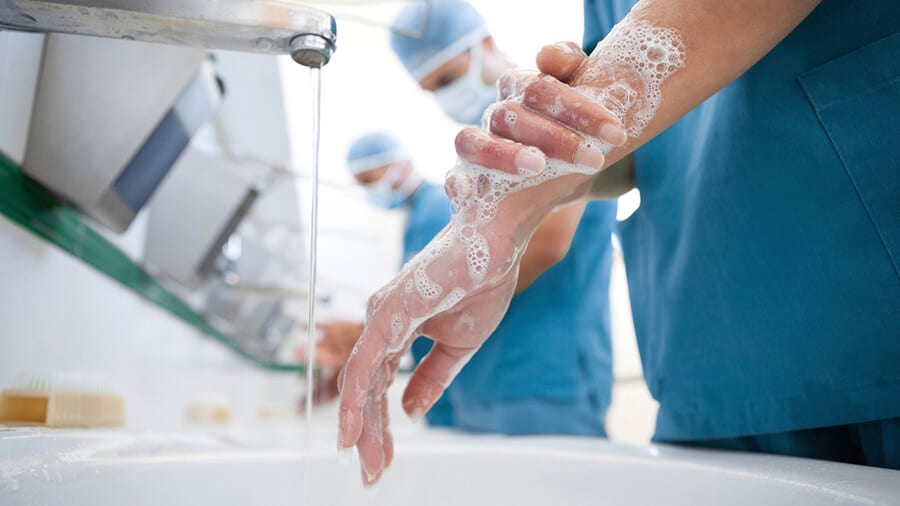 Hand sanitizer and soap and water have important but different roles in hand hygiene
While crediting alcohol-based hand sanitizer and disinfectants for their important contributions to controlling hospital infections worldwide, the study's authors found that the E. faecium isotopes obtained after 2010 were 10-fold more tolerant to alcohol than the older isotopes. Other aspects of the study confirmed the ability of E. faecium to develop resistance over time.
E. faecium is a species of enterococcus, which cause 10 percent of the world's hospital-acquired infections. In the United States, this bacterium is a leading cause of sepsis, a deadly blood infection.
Hand sanitizer used for hand hygiene in hospitals typically contain at least 70 percent isopropyl or ethyl alcohol (Ali, 2001; Boyce, 2002; WHO, 2009). These hand sanitizers achieve better efficacy than soap and water in preventing staph infections. With alcohol-based hand sanitizer an effective hand hygiene solution in preventing many kinds of infections right now, it's important to continue to use them to control methicillin-resistant Staphylococcus aureus (MRSA) and other germs that have developed a resistance to antibiotics. MRSA caused 20,000 fatalities each year while AIDS claimed 5,698 lives, according to the CDC (Kourtis, et al., 2019; Kochanek, et al., 2019).
But Lance Price, a George Washington University professor and founding director of the university's Antibiotic Resistance Action Center, emphasized in an interview with National Public Radio (Schreiber, 2018) that soap and water continue to play an important role in hand hygiene. "It's the physical action of lifting and removing (bacteria) off your skin, and letting them run down the drain," Price said. "We have to be careful about this new trend towards heavy reliance on alcohol-based sanitizers," Price continued. "Soap and water should be our number-one protection" – both in hospitals and for personal use.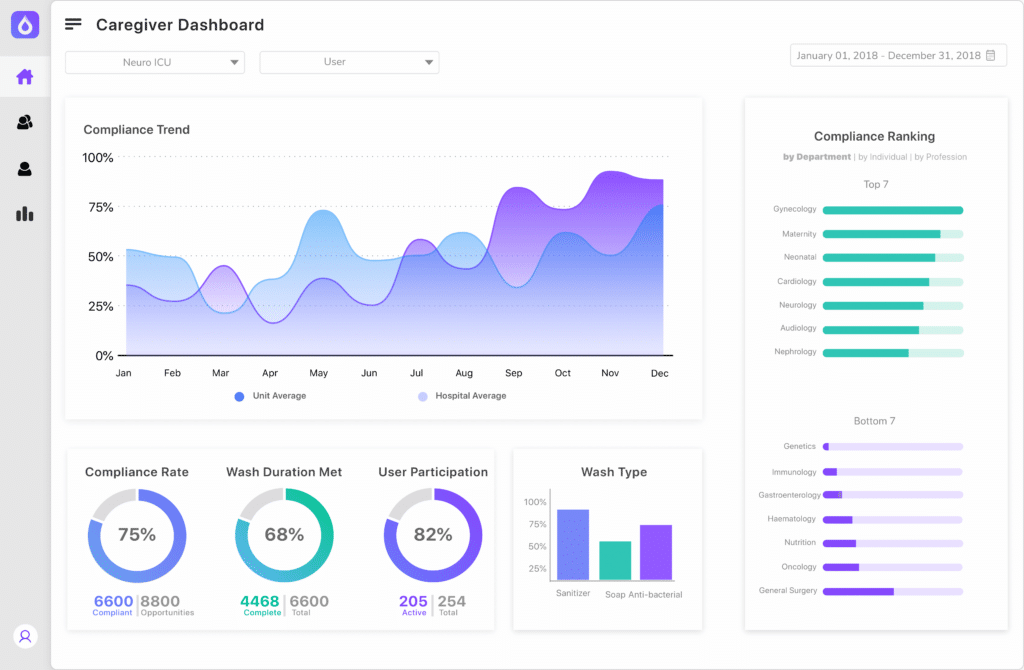 Vitalacy's electronic compliance monitoring of hand hygiene can track both soap and water and hand sanitizer use as well as wash quality and duration. This technology helps hospitals to improve their hand hygiene compliance rates, thereby lowering healthcare-acquired infection rates (Vitalacy, 2019).
CDC guidelines state when to use soap and water instead of hand sanitizer
The CDC states clearly that soap and water must be used in addition to hand sanitizer because the sanitizer don't get rid of all types of germs. The CDC says to use soap and water, not a hand sanitizer:
When hands are visibly dirty
When there is a known or suspected exposure to C. diff. A new study (Gilboa, et al., 2020) published in Clinical Microbiology and Infection (2019) says the rooms of patients who carry C. diff but are asymptomatic are as contaminated as rooms of patients who are suffering from C. diff infections.
When there is a known or suspected exposure to patients with infectious diarrhea during norovirus outbreaks
When exposure to Bacillus anthracis (anthrax) is suspected or proven
Prior to eating
After using a restroom
Either soap and water or a hand sanitizer can be used:
Before and after patient care
After coming into contact with any type of body fluid or open wound
After touching any object that is near a patient (hand railing, bedside table, etc.)
After removing gloves
Continuing to find new solutions to stop drug-resistant bacteria obviously requires further investigation and new solutions, especially given a recent New York Times report (Jacobs, 2019) about the financial difficulties of developing new antibiotic drugs. In the meantime, complying with hand hygiene protocols incorporating both soap and water and hand sanitizer is the best way to prevent hospital-acquired infections.
Request a demo of Vitalacy's Automated Hand Hygiene Monitoring Solution today!
References
Ali, et al. Alcohols, in Disinfection, Sterilization and Preservation, S. S. Block, Ed. (Lippincott Williams & Wilkins, 2001), vol. 1, chap. 12, pp. 229–252.
Boyce JM & Pittet D; Healthcare Infection Control Practices Advisory Committee; HICPAC/SHEA/APIC/IDSA Hand Hygiene Task Force, Guideline for Hand Hygiene in Health-Care Settings. Recommendations of the Healthcare Infection Control Practices Advisory Committee and the HICPAC/SHEA/APIC/IDSA Hand Hygiene Task Force. MMWR Recommendations and Reports, 51, 1–45 (2002).
Centers for Disease Control and Prevention. Antibiotic Resistance Threats in the United States, 2019.
Gilboa, M et al. Environmental shedding of toxigenic Clostridioides difficile by asymptomatic carriers: a prospective observational study. Clinical Microbiology and Infection, Jan. 2, 2020.
Jacobs, A. Crisis looms in antibiotics as drug makers go bankrupt. The New York Times, Dec. 26, 2019.
Kochanek KD, Murphy SL, Xu JQ, Arias E. Deaths: Final data for 2017. National Vital Statistics Reports; vol 68 no 9. Hyattsville, MD: National Center for Health Statistics. 2019.
Kourtis AP, Hatfield K, Baggs J, et al. Vital Signs: Epidemiology and recent trends in methicillin-resistant and in methicillin-susceptible Staphylococcus aureus bloodstream infections — United States. Morbidity and Mortality Weekly Report, 2019;68:214–219.
Pidot, et al. Increasing tolerance of hospital Enterococcus faecium to handwash alcohols. Science Translational Medicine, August 1, 2018.
Rotter M. Hand washing and hand disinfection, in Hospital Epidemiology and Infection Control, C. G. Mayhall, Ed. (Lippincott Williams & Wilkins, ed. 2, 1999), chap. 87, pp. 1339–1355.
Schreiber, M. Some bacteria are becoming 'more tolerant' of hand sanitizers, study finds. National Public Radio, Aug. 2, 2018.
Vitalacy, Inc. Finding new ways to prevent healthcare-acquired infections and conditions. 2019.
World Health Organization, Guidelines on Hand Hygiene in Health Care, 2009.