Protecting patients and workers inside of a hospital from the spread of infectious pathogens requires testing, personal protective equipment (PPE) and data – information about care providers' compliance with infection prevention and control (IPC) procedures. In the case of COVID, it also requires vaccination. All of these tools are needed for hospitals to create and maintain a safe environment and culture.
Healthcare-acquired infections (HAIs), including COVID, have increased significantly during COVID after trending downward prior to the pandemic (Weiner-Lastinger, et al., 2021). Through our work with infection prevention and control specialists and other professionals charged with ensuring safety in hospitals, the Vitalacy team has strengthened its belief that all infection prevention and control tools will be needed to harness the spread of HAIs in the future, especially with new virus variants and other pathogens entering the scene. For example, the Center for Disease Control and Prevention (CDC) investigated 20 HAI outbreaks occurring in COVID treatment units between April 2020 and February 2021. These outbreaks involved the bacterium Acinetobacter baumanii in New Jersey (Perez, et al., 2020) and the fungus Candida auris in Florida (Prestel, et al., 2021), which both developed resistance to drug therapy.
The Weiner Lastinger article, published in Infection Control and Hospital Epidemiology, also highlights the need for healthcare organizations to return to conventional infection prevention and control practices as COVID becomes better controlled, stating that an increased focus on hand hygiene compliance, environmental cleaning, patient isolation and the use of PPE will likely result in HAI decreases post-pandemic.
More than 10,000 patients contracted COVID in-hospital in 2021
After coming to the hospital COVID-free for care for something else, more than 10,000 patients contracted the virus in 2021, according to federal and state records analyzed for Kaiser Health News (KHN) (Jewett, 2021).
Jewett tells the story of Steven Johnson, who entered the hospital for surgery to remove a hip infection in November 2020. Having tested negative for COVID two days before he was admitted, he became COVID-positive after 13 days in the hospital and died soon thereafter of COVID.
Like Johnson, about 21% of the patients who contracted COVID while in the hospital between April and September 2020 died, the federal and state data show. This high percentage was caused by a virus adept at dodging even heightened infection prevention and control safeguards.
What caused infections to spread?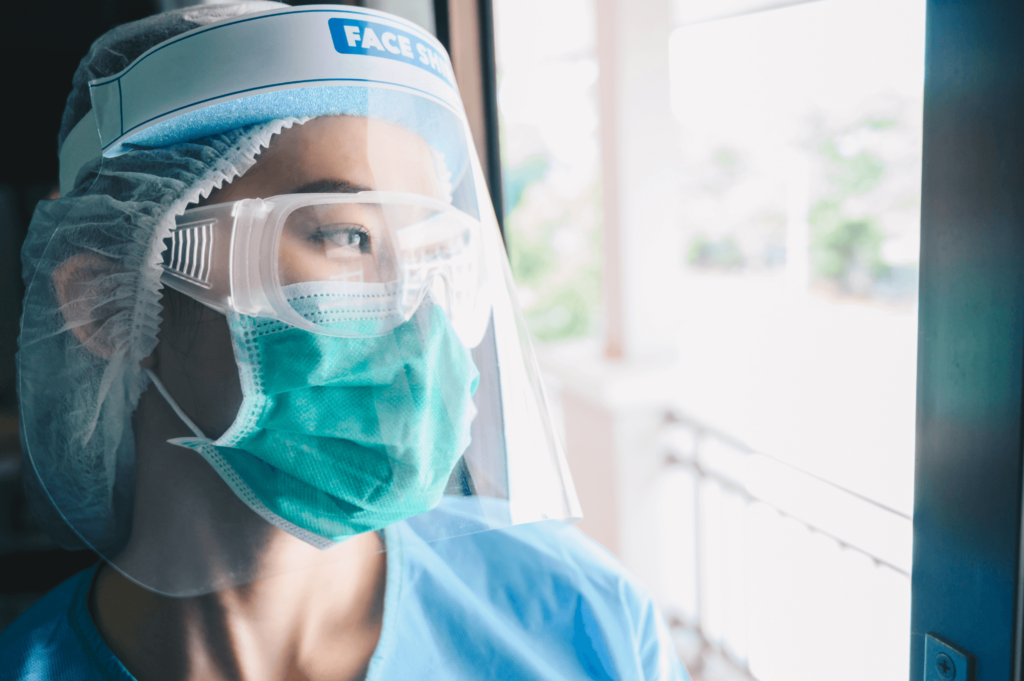 1. Short supplies of tests, PPE and data.
The federal and state data depict a particularly rough stage of the pandemic when tests and PPE were in short supply. While supplies have improved since then, COVID testing within the community setting became difficult again during the omicron variant surge, with long waits discouraging many from confirming a suspected infection. The hyper-infectious nature of omicron coupled with the hassle and delays of getting tested opened the door for increased numbers of health care workers, patients and visitors to bring the virus into the hospital setting. CDC guidance left testing of patients and workers up to a hospital's discretion, the KHN article stated.
A lack of effective contract tracing data left hospital workers in the dark about their exposure to COVID and the risk of their spreading it to others. In addition, the ability to correlate hospital-acquired infections (HAIs) to breaches in infection prevention and control procedures varied from hospital to hospital, particularly under the stress of high volumes of COVID patients. HAI symptoms often appear days after the infection occurs, and most hospitals cannot track compliance with hand hygiene and other infection prevention and control procedures in real-time.
2. A virus slipping through the cracks.
The experience of Boston's Brigham and Women's Hospital showed the ability of the virus to slip through the cracks of even the most diligent precautions. After publishing a study in the JAMA Network Open journal (Rhee, et al., 2020) stating that only two of 697 COVID patients acquired the virus within the hospital, Brigham and Women's experienced an outbreak affecting 38 staffers and 14 patients. This outbreak is described in a paper published in the Annals of Internal Medicine (Klompas, et al., 2021).
The outbreak began after a patient who tested negative twice turned out to be positive. Once inside, the virus spread from "patient zero" to other patients and to workers, breaching surgical masks and face shields, with N95s providing more reliable protection.
3. Unvaccinated health care workers and patients.
The Supreme Court recently upheld President Joe Biden's federal vaccination requirement for healthcare workers. The court also implied that its ruling in regard to healthcare workers would override state laws banning vaccination requirements, according to the New York Times. This action is expected to lower the number of patients who contract COVID during a hospital stay. However, with nurses in short supply, many hospital administrators were fearful a vaccination requirement would cause these care providers to walk off the job. On the other hand, other nurses have become fearful of working in an environment where unvaccinated co-workers are permitted.
Patients admitted to a hospital still have the right to refuse a COVID vaccine, leaving them vulnerable to COVID infection. Whatever the courts and the president say, scientific studies show the vaccines to be effective at reducing infections, hospitalizations and deaths from COVID.
Instilling a culture that values infection prevention and control
As the response to the COVID pandemic began becoming increasingly politicized and subject to media disinformation, many of us held to the hope that hospital and health care workers would hold firm to the mission of patient and worker safety above all else. They have held firm for the most part, according to several studies, but the cohort of vaccine-hesitant or vaccine-resistant workers makes enforcing mandates difficult for hospital administrators who sorely need staff to perform patient care duties.
Advocates of effective infection prevention and control must push forward with robust data and inventive technology that wins over even the most ardent skeptics. Moreover, we must forge ahead with the attitude that we are winning this fight against COVID, with about 80% of Americans age 5 and older having received one dose of the vaccine and 67% two doses, and 45% of Americans age 18 and older having received a booster shot, according to the New York Times data compiled on Jan. 18, 2022.
With the COVID-19 pandemic still top of mind, hospitals have a historic opportunity to take the necessary steps to improve the fundamentals of infection prevention and control, thereby decreasing both community-acquired and healthcare-acquired infections. An essential starting point for reducing HAIs is having the ability to measure hand hygiene compliance accurately. Once you have an accurate baseline, you can improve compliance and track it to see its impact on infection rates.
Vitalacy's new SmartBadge provides a cost-efficient way of meeting the Leapfrog Group's hand hygiene standards, with the SmartClip and SmartBand providing real-time hand wash reminders at the point of care. The SmartBand has the additional feature of monitoring wash duration and coaching care providers to extend the time they wash their hands. Vitalacy's experience with St. Mary's Healthcare System for Children in Queens, New York, showed a correlation between longer hand wash duration and reduced healthcare-acquired infections.
The SmartBadge is the latest addition to the Vitalacy Patient Safety Platform – a suite of products including hand hygiene compliance monitoring, workflow and nurse rounding monitoring, contact tracing, and a fall risk alert.
Request a demo today to learn more about which of our solutions will work best for you.
References
Jewett C. Patients went into the hospital for care. After testing positive there for COVID, some never came out. Kaiser Health News, Nov. 4, 2021.
Klompas M, et al. A SARS-CoV-2 cluster in an acute care hospital. Annals of Internal Medicine, June 2021.
New York Times. See how vaccinations are going in your county and state, Jan. 14, 2022.
Perez S, et al. Increase in hospital-acquired carbapenem-resistant Acinetobacter baumannii Infection and colonization in an acute care hospital during a surge in COVID-19 admissions — New Jersey, February–July 2020. MMWR Morbidity and Mortality Weekly Report, 2020;69:1827–1831.
Prestel C, et al. Candida auris outbreak in a COVID-19 specialty care unit – Florida, July-August 2020. MMWR Morbidity and Mortality Weekly Report, 2021;70(2):56-57.
Rhee C, et al. Incidence of nosocomial COVID-19 in patients hospitalized at a large U.S. academic medical center. JAMA Network Open, Sept. 9, 2020.
Weiner-Lastinger LM, et al. The impact of coronavirus disease 2019 (COVID-19 on healthcare-associated infections in 2020. A summary of data reported to the National Healthcare Safety Network. Infection Control and Hospital Epidemiology, Sept. 3, 2021.